Peterson StroboPlus HDC Chromatic Handheld Strobe Tuner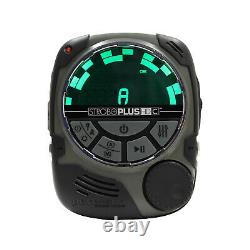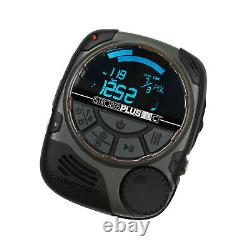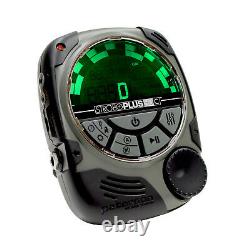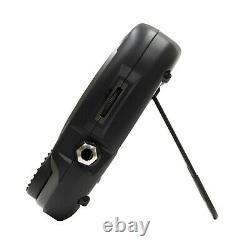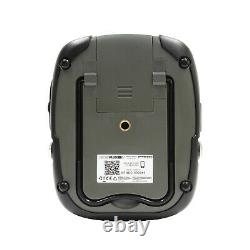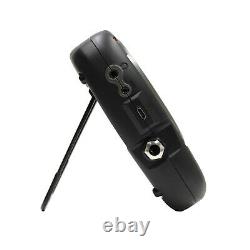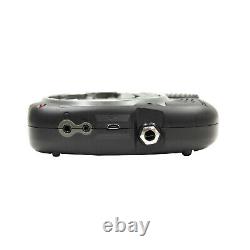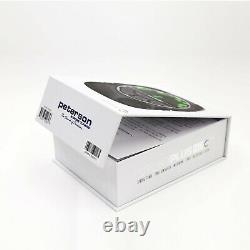 Featuring a high-definition, variable multi-color display, the StroboPLUS HDC screen can be seen easily from a distance and will tune any instrument to an ultra-high degree. Over 200 exclusive on-board Sweetened Tunings® accommodate a variety of instruments and musical genres, while the included, highly-configurable metronome features precise beat matching 0.1 BPM adjustability, ultra-wide tempo range, advanced subdivisions, accent patterns and polyrhythms and can also import tempo maps. Perfect for home the stage, bench, studio or classroom or just to help make you a better musician, StroboPlus HDC is equally as comfortable on a techs workbench as it is in a players guitar case and is the complete tuning, ear training and rhythm tool - all in a single package!
Handheld/Desktop Strobe Tuner with integrated Metronome. Large HD Colour Display - save your favourite tuning to unique colors. True Strobe +/-0.1 Cent tuning accuracy, with Concert A range of 390-490 Hz.
Versatile Metronome included - use ultra-wide tempo range, advanced subdivisions, accent patterns and polyrhythms with a simple and intuitive interface. Compatible with optional BodyBeat Vibe Clip - for tactile metronome feedback. Over 180 Sweetened Tunings built in with USB connectivity - for custom tuning. Built-in electret condenser microphone and ¼ input jack. 3.5 mm Headphone jack.
Powered by included Li-ion Battery - rechargeable via USB. Compatible with Peterson Connect (Windows / Mac OS) - for simple configuration and customisation. Hard-wearing optional carry case available. Ultra-High Tuning Resolution - in Color!
All Peterson products provide guaranteed tuning results to within +/-0.1 cent (1/1000th of a fret or semitone). StroboPLUS HDC is no exception to this and employs Peterson's proprietary Strobo Tuning Technology to tune your instrument to an ultra-high degree of accuracy. This level of accuracy is an industry benchmark and what has made Peterson the choice of professionals around the globe for over 70 years and this is now even better with the large HD colour display.
The user-selectable vibrant screen colours can be used to personalise the tuner with whatever shade suits your style or to increase display viewing quality in different levels of ambient lighting. Plus, you can even save your favourite tuning settings to unique colours to significantly reduce menu navigation time and increase on-stage tuning confidence at the gig. The StroboPLUS HDC's Virtual Strobe display is DIRECTLY driven by the input signal. That means you'll see the attack, sustain and the decay of the note being tuned - all in real-time. This speed of movement is in direct correlation to the distance from the target pitch and the display doesn't exhibit the often-found jerky motion found in needle or LED-based tuners. You can literally watch the strobe bands settle as you pull that note into the target pitch! StroboPLUS HDC includes one of the most innovative and versatile metronomes on the market as a standard feature and hundreds of subdivision combinations, accent patterns, polyrhythms and user-imagined tempo maps are all at your disposal, via the built-in speaker or the headphone jack. Tactile feedback is also available with the use of an optional Peterson BodyBeat Pulse Solo or BodyBeat Vibe Clip. These clip-on devices can help musicians experience a way to silently internalise tempo that can be felt by a pulse, but not heard. Loads of Sweetened Tunings and More.
Sweetened Tuning offers a number of alternate temperaments to suit a variety of string and wind instruments. A Sweetener preset is a set of cent offsets or a deviation from generic Equal Temperament interval spacing traditionally used in tuning, in other words, several presets with differing interval spacing relevant to the instrument being tuned. If youve never been happy with how your instrument tunes up with your present tuner, a Sweetener could be just the thing to change that without any modifications whatsoever. Supplied with over 180 factory preset Sweetened Tunings, covering a wide variety of electric and acoustic instruments, StroboPLUS HDC can address the specific inharmonicities of any of these selected instruments all helping to optimise their tuning. Also included as standard are a collection of guided tunings.
These include popular drop, alternate, artist-specific and standard string number tunings. Native compatibility with Peterson Connect also allows you to configure and update your StroboPLUS HDC for a complete personal tuning experience.
This application for Google Chrome and Microsoft Edge (Windows/OS X) provides a simple method to configure and customize your StroboPLUS HDC and helps to create your own sweeteners, navigate the user tuning trading post or arrange preset tunings before the gig. Tempo Maps can also be loaded to the StroboPLUS HDC via Peterson Connect for practicing musical scores - complete with tempo changes!
Peterson Connect is also the hub for updating firmware ensuring that it remains up-to-date with any future software upgrades. Gone are the days of having to carry extra batteries and tripping over power cables during a performance! StroboPLUS HDCs supplied battery is rechargeable via regular USB computer bus or outlet power. Charge up this large-screen chromatic StroboPLUS HD tuner and use the built-in microphone or ¼ input to plug in and tuneits that simple! Adjust the display color to your liking. Edit with software to customize it and this tuner can be precisely what you want it to be!
The item "Peterson StroboPlus HDC Chromatic Handheld Strobe Tuner" is in sale since Monday, September 27, 2021. This item is in the category "Musical Instruments & Gear\Guitars & Basses\Parts & Accessories\Tuners". The seller is "guitarsplususa" and is located in Northfield, Ohio.
This item can be shipped to United States.
Model: Peterson StroboPlus HDC
Type: Hand-Held Tuner
Brand: Peterson
Suitable For: Acoustic Electric Guitar

---