MECANIQUES BASSE GOTOH REVERSE WIN ResOLIte Light Weigth P-J BASS TUNERS GBR640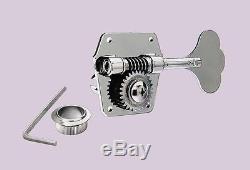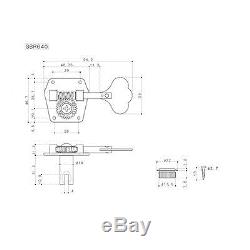 Set 4 x MECANIQUES GOTOH NICKEL. Vintage Style Res-O-Lite Ultra légère (67g). Compatibles avec Basses de type Fender. Reversible coté gauche ou droite Diamètre des trous dans la tête de guitare (peghead) : bushing 11/16 #17,6 mm. Neuf et d'origine en boites de 4 mécaniques GBR640-N - SERRAGE INVERSE type 60's (Serrage standard = non inversé dispo GB640) Sur commande dispo sous 10 jours ouvrables. Vintage Style Bass - Machine Heads Genuine Gotoh. Reverse direction winding (on reverse available see GB640) - Res-o-lite ultra light weight construction - Light weight of 67 grams each tuner - Replacement for many vintage & reissue J. Bass - Supplied in 4L format but can be reversed for 4R, 2+2 or 3+1 formats - Require 17.6mm (11/16) hole for bushing Axes = 14mm - Include mounting screws, bushings & washers.
Super lightweight bass machine heads : Bass guitars with their heavy machine heads always suffered from "neck-dives"; the GOTOH RES-O-LITE was designed to solve this problem. Made mostly from a special alloy "duralumin" , an excellent weight savings was achieved. Standard Fender Vintage spec tuning machines - 3.6 oz (102 grams) GOTOH Res-o-lite Vintage spec tuning machines - 2.36 oz (67 grams).
Cliquez sur l'image pour l'agrandir dans une fenêtre séparée. Généralement expédié sous 1 à 3 jours : délais maximal 10 jours ouvrables ; voir "conditions de livraison" et/ou nous consulter (Ce délais peut être allongé en cas de commande multiple, nous contacter pour disponibilités) ; Consultez nos Conditions dexpédition. Et nos Conditions Générales de vente. Sont des marques deposées de Gibson Guitar Corp. Sont des marques déposées de Fender Musical Instrument Corp ; Les articles d'accastillage proposés par ADP guitarshop sont génériques, ouproposés par une marque réputée : Gotoh, Kluson, Spertzel, Groover, Schaller, AllParts, CTS, Duesenberg, Sandberg etc.. Nous n'avons aucunerelation commerciale avec Fender ou Gibson. Nous sommes distributeur des corps et des manches Musikraft, fabriqués aux USA sous Licence Fender.
Sauf exception, les corps et les manches livrés en "Custom Design" sont vernis par nos soins. ADP adpguitarshop est une marque déposée à l'INPI. Concevez votre guitare personnalisée avec ADPGuitarShop. The item "MECANIQUES BASSE GOTOH REVERSE WIN ResOLIte Light Weigth P-J BASS TUNERS GBR640" is in sale since Friday, March 18, 2016. This item is in the category "Instruments de musique\Guitares, basses, accessoires\Accessoires\Pièces détachées".
The seller is "fretdreamer" and is located in Locmaria Plouzané. This item can be shipped worldwide.
Marque: GOTOH
Numéro de pièce fabricant: GB640-N

---