KORG OT-120 ORCHESTRAL TUNER NEW from Japan Express Delivery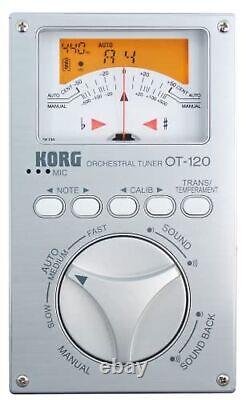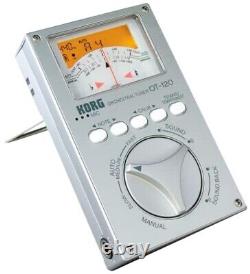 In a vertical form that is easy to use with high functionality. Introducing OT120, a new style of needle-type meter. Vertical chromatic tuner with needle-type meter for excellent visibility. The OT-120 is a chromatic tuner for orchestras equipped with a vertical form that has high performance and high functionality and is easy to hold and has excellent operability. In addition to the needle-type meter that is deeply rooted in its good visibility, it is equipped with a dual display equipped with a backlit LCD screen that displays the remaining battery level, sound output level, calibration, key, temperament name, etc.
These large dials that allow you to easily select the display and mode, and easy-to-press buttons are laid out in a vertical shape that is easy to hold in your hand, and the back is equipped with a stand that allows you to stand on your own. A needle-type meter tuner with a cool look using luxurious silver aluminum panels and full of functions to support orchestra tuning. ·Accurately tune orchestral instruments over a wide measurement range. ·Supports a wide range of transposing instruments and classical temperaments. ·High-precision tuning unique to needle-type meters is smooth. ·Can be used for a long time due to its long life design.
·Equipped with tuning of tube and string instruments, reference sound oscillation useful for lessons, and sound back mode. Comes with a suede-like soft case. If that, please let us know within 3 days you got the item.

---